FUSE User mode file system on Windows Filesystem in User SpacE (FUSE) is a software interface for developing file systems in user-mode without complexity of kernel interface programming. Crossmeta FUSE provides the same reference Linux FUSE API, so that programs can be ported with no or very little modifications. To start Fuse, run bin/fuse on Linux/Unix or binfuse.bat on Windows. Optionally, to access the Fuse Console, open the provided URL in a web browser and login with the username and password that you set in the etc/users.properties file. For more information about using the Fuse Console see Managing Fuse. Finally, you can mount the ssh connection into your file system, using for example fuse (similar options might exist for non-linux operating systems). That allows you to access any file on the remote machine as if it were in your filesystem, with your favourite editor, locally.
WSL should definitely support fuse, this is a main use case. I expect to sshfs mount remote filesystem and access it both from bash and from windows file explorer at the same time. It should appear to windows file explorer as part of the folder tree. Download Fuse for Windows from the downloads page and run the installer. We can start the Fuse daemon simply by typing fuse on the command prompt. Note: You may have to log out and in again (or simply reboot) to make sure the path for fuse is properly updated. When Fuse is running we can see its tray icon in the task bar.
Sometime we need to copy files and directories from different Linux machines, Most of time Linux admin used scp command to copy files directories. On backend SSH protocol is running to complete this task. But if we need to do so frequently, we have SSHfs which can mount remote file-system through SSH protocol. Below mentioned steps contains how we can install and configure this.
Installation of SSHFS
For Linux, you can use yum to install sshfs packages.
#yum install sshfs -y
In my case, this installed three packages, output from /var/log/yum.log
Jul 18 11:16:01 Installed: fuse-2.8.3-4.el6.x86_64
Jul 18 11:16:01 Installed: fuse-libs-2.8.3-4.el6.x86_64
Jul 18 11:16:01 Installed: fuse-sshfs-2.4-1.el6.x86_64
For Ubuntu, you can use apt-get utility.
After installation required packages, we can use them and mount remote file-system through SSH.
[[email protected] ~]# mkdir /srv12-home
[[email protected] ~]# sshfs 192.168.1.12:/home /srv12-home
[email protected]'s password:
[[email protected] ~]# df -hT
Filesystem Type Size Used Avail Use% Mounted on
/dev/mapper/vg_localsrv11-lv_root ext4 18G 7.4G 9.1G 45% /
tmpfs tmpfs 1.9G 0 1.9G 0% /dev/shm
/dev/sda1 ext4 485M 39M 421M 9% /boot
/dev/sdb1 ext2 9.9G 23M 9.4G 1% /vm_images
192.168.1.12:/home fuse.sshfs 37G 9.2G 26G 27% /srv12-home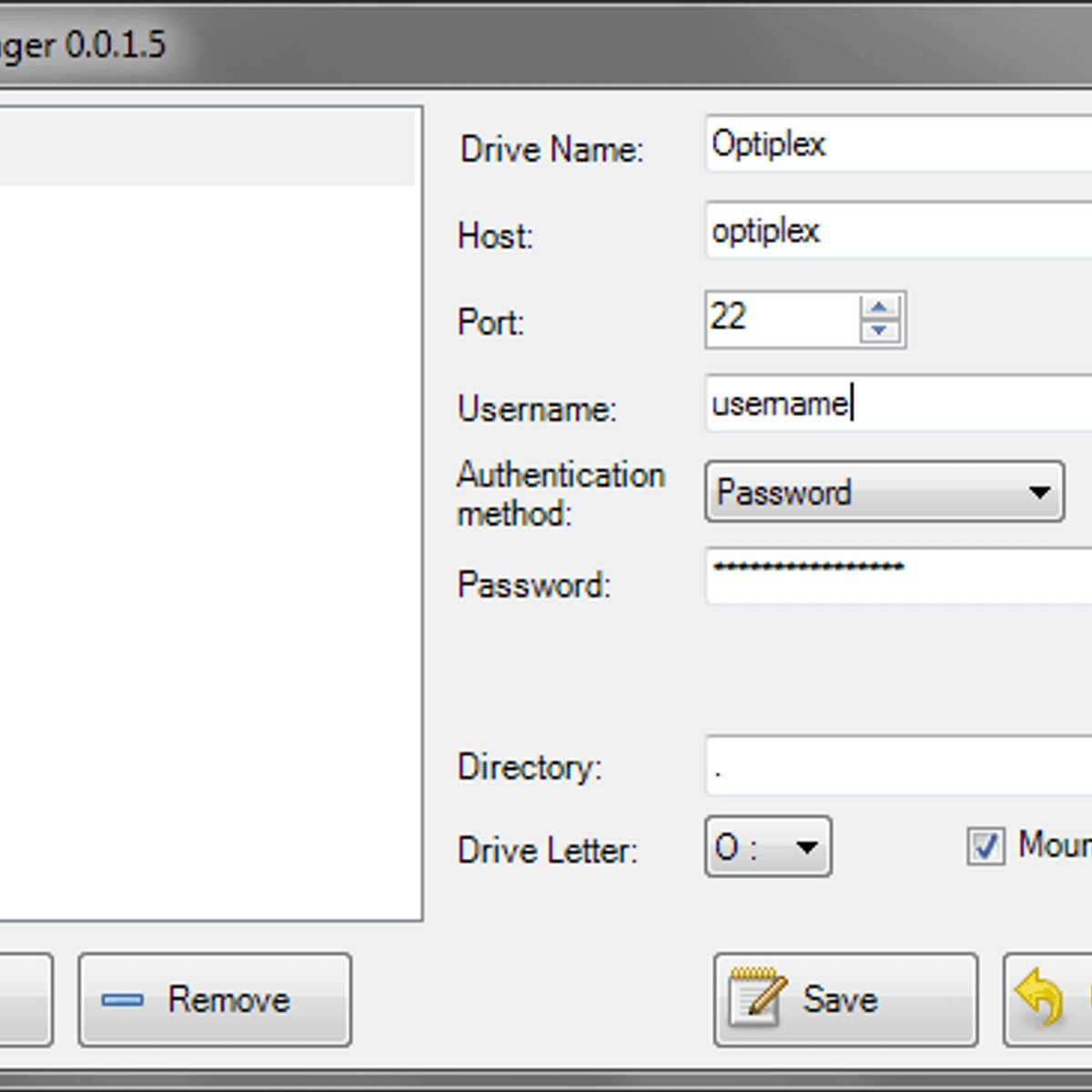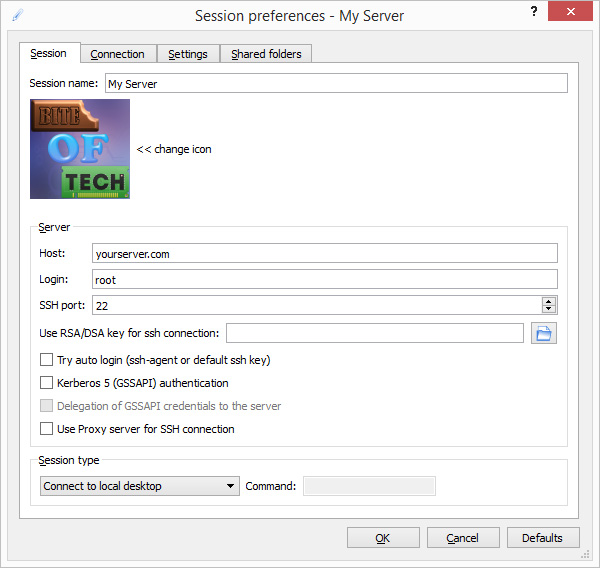 In this we have provide password for user which have access for this directory that you are trying to mount. So from the server side from where we need to mount, we only need SSH connection and credentials for accessible user.
But this is also possible that we need not to provide password every time, for this we have to save provide SSH keys which will automatic login without credentials.
For this we have create SSH keys, below method used to create SSH keys and mount through keys.
[[email protected] ~]# ssh-keygen -t rsa -b 4096
Generating public/private rsa key pair.
Enter file in which to save the key (/root/.ssh/id_rsa):
Enter passphrase (empty for no passphrase):
Enter same passphrase again:
Your identification has been saved in /root/.ssh/id_rsa.
Your public key has been saved in /root/.ssh/id_rsa.pub.
The key fingerprint is:
58:9d:61:e5:9a:94:72:c5:6f:6c:9d:a6:1a:13:50:39 [email protected]
The key's randomart image is:
Ssh Client For Windows
We can use these SSH key and mount remote SSH directory. Below mentioned output show, how to do this…
Windows Fuse Ssh App
[[email protected] ~]# scp .ssh/id_rsa.pub 192.168.1.12:/root/.ssh/authorized_keys
[email protected]'s password:
id_rsa.pub 100% 738 0.7KB/s 00:00
[[email protected] ~]# sshfs 192.168.1.12:/home /srv12-home
[[email protected] ~]# df -hT
Filesystem Type Size Used Avail Use% Mounted on
/dev/mapper/vg_localsrv11-lv_root ext4 18G 7.4G 9.1G 45% /
tmpfs tmpfs 1.9G 0 1.9G 0% /dev/shm
/dev/sda1 ext4 485M 39M 421M 9% /boot
/dev/sdb1 ext2 9.9G 23M 9.4G 1% /vm_images
192.168.1.12:/home fuse.sshfs 37G 9.2G 26G 27% /srv12-home